About CitiVU

Web Site/Page Examples

Featured Advertisers

How to Contact CitiVU
About CitiVU
CitiVU provides complete Web site services including Web Market Research, Copy Writing, HTML Authoring, Graphic Creation, Photo Scanning/Retouching, Site Publication/Presentation, Site Linking/Promotion, and Site maintenance. Located in Southern California, we accept clients throughout the USA. For more information please contact us by phone.
CitiVU connects area merchants and professionals with over 40 million Internet users. It is an ideal place for local businesses and professionals to place their Internet Web advertising. We provide the specialized advertising and graphic services for this medium to produce the best value for our advertiser's dollar.
---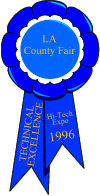 CitiVU Wins Blue Ribbon
In September of 1996 CitiVU won the blue ribbon for technical excellence in Web page design at the Los Angeles County Fair Hi-Tech Expo.
---
CitiVU Web Site/Page Examples
---
CitiVU: Rancho Cucamonga provides an unofficial virtual presence on the Internet World Wide Web for The City of Rancho Cucamonga. General information and promotion of the city is done at no charge as a public service. (Acknowledgement and disclaimer)
Would you like CitiVU to create a Web site for your business or city? Please contact us.

---
---

Last update: 8 March, 2013

Copyright © 1995, 1996, 1997, 1998, 1999, 2000, 2001, 2002, 2003, 2004, 2007, 2013 by CitiVU. All rights reserved.