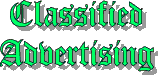 Listing Submission
---
To be accepted, your submission must be suitable for all audiences and must be complete. Advertisers must be located in Rancho Cucamonga or neighboring communities or be employed there.
---
---
E-Mail suggestions to classales@citivu.com
Last update: June 29, 2003

Copyright © 1995-2003 by CitiVU. All rights reserved.
CitiVU Web Services.