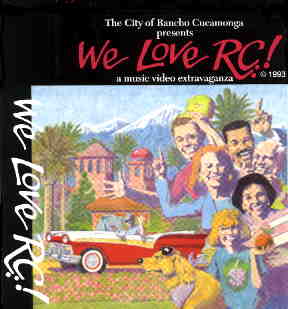 We Love R. C.!
Music Video Extravaganza
"Eye-catching, finger-popping romp through the city!"
—raves Rancho Cucamonga Magazine
"We love R.C.! combines the great sound of Randy Newman's classic music video with stylish humor and images."
—Songwriter Joel Wade
"This couldn't be a city marketing video... it's too much fun!"
—Bob Phillips, Coca-Cola Vice President, Public Affairs
---
Produced & Directed by D. PAUL HOFFMAN

Directors of Photography DON HOFFMAN, ROGER BOLLER, ROBERT KITTILA

Lyrics/Musical Arrangement JOEL WADE Lead Vocal SHERWOOD BALL

Production Consultant DAVID GAUTREAU, The Control Room

Production Coordinator LeANN SMOTHERS Artwork DAVE CRUST

A Film by the ECLECTIC GROUP

copyright 1993

Running Time: 5 minutes
---
Price Only... $5.00 FOB Rancho Cucamonga, CA, USA
To order, please contact:
The Rancho Cucamonga Redevelopment Agency
10500 Civic Center Drive, Rancho Cucamonga, CA 91730
(909) 989-1851
---
City Statistics & Demographics | Fast Track for Business Relocations
New Development | Awards for Design Excellence | City Video
---
Suggestions? E-Mail to webmaster@citivu.com
Last update: 21 June, 2004

Electronic Page Copyright © 1995-2004 by CitiVU. All rights reserved. Hot-links are welcome.